Decorum: Artist's Weavings & Carpets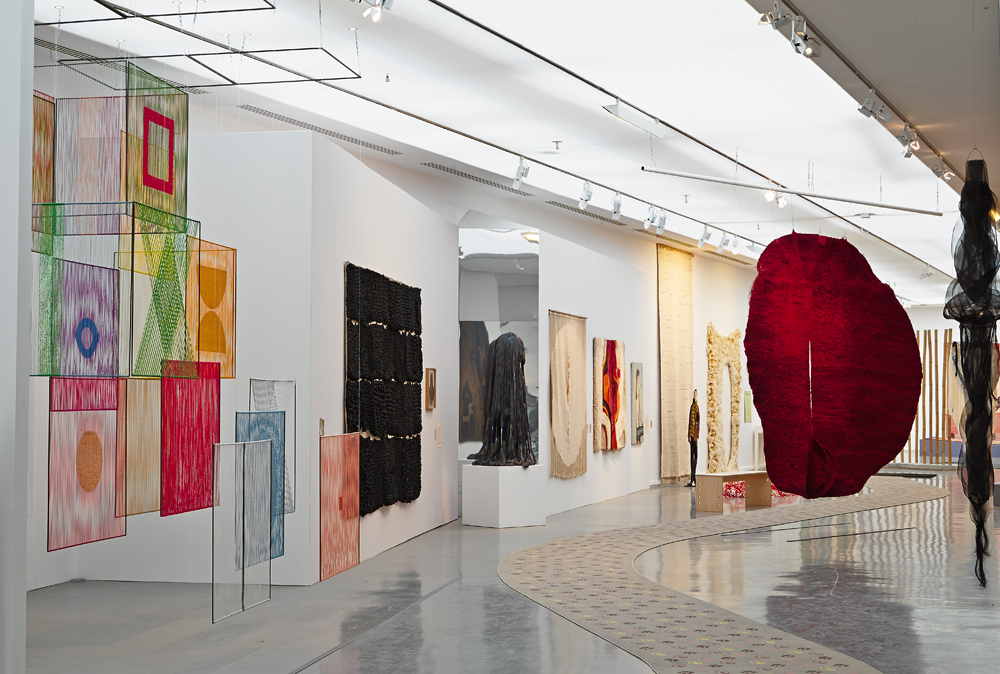 Exhibition Review in Fiber Art Now
Decorum: Artist Weavings and Carpets at the Musee d'Art Moderne de la Ville de Paris
This exhibition was on view from October 11, 2013-February 9, 2014.
Published in the Spring 2014 issue of Fiber Art Now.
Decorum: Artist Weavings and Carpets is a comprehensive exhibition that brings together over 100 works of art including carpets, tapestries, weavings, installations, and sculptural work. The exhibition doesn't try to retrace the history of weaving in the 20th century, as Fabrice Hergott, director of the Museum of Modern Art in Paris, notes in the catalog introduction. Instead, curator Anne Dressen has chosen to present the work thematically in five sections: Painterly, Decorative, Orientalist, Primitive and Sculptural.
With over 20 artists in each section, Decorum generates an engaging visual dialogue within a large cross-section of styles and practices including hand woven and digitally produced weavings, conceptual installations and collaborative workshops, non-Western rugs by anonymous artisans, unique sculptures, and multiples. The exhibition highlights the relationship of textiles to contemporary art and artists with a nod to the recent trend of using fiber based mediums, such as the Neo-Craft movement, and the emphasis on the handmade, as seen in the work by Caroline Achaintre, whose colorful, hand-tufted wall hanging titled, Moustache-Eagle (2008), seems part shamanistic-part vintage shag rug, and Michael Beutler, whose gigantic installation, Weaving Workshop, 2009-2013, consists of an enormous handmade loom that measures roughly 8' x 10' x 19.5', with in-situ weaving that spreads out from the loom and throughout the final room in the exhibition.
Other contemporary practices with the medium are seen through the work of artists like Rosemarie Trockel, who has used knitting techniques and yarn in her highly conceptual artwork for decades; Mike Kelley, whose use of discarded or thrift store blankets and throws are repurposed to the effect of their original intent being completely subverted; and Los Angeles based artist, Pae White, whose spectacular wall hanging depicting a plume of billowy smoke, Berlin B, 2012, reflects the realm of possibilities offered in digitally produced, machine made weavings.
There is significant space dedicated to early 20th century artists as well. Taken as a broad theme, the Decorative section of the show investigates the development of weaving in workshops and schools such as the Bauhaus, the Omega Workshop, and the Vienna Secession. It looks at the link between design, craft, art, and architecture and how many artists worked within this crossover, particularly women, such as Anni Albers, Gunta Stotzl, and Evelyn Wyld who often collaborated with architect Eileen Gray.
Fernand Leger, Sonia Delaunay and Le Corbusier, who coined the term muralnomad to describe the virtues and possibilities of tapestries, are present in the Painterly section with beautiful wall hangings, as is Picasso with two large-scale, Cubist influenced tapestries titled, Femmes à leur toilette, 1967-70, that were made at the historical Gobelins workshop in France.
The link between old and new is made clear throughout the show. The inclusion of several works by anonymous artists or workshops from non-Western countries provides a refreshing counter-balance and underscores the importance of historical lineage of weaving. Examples include a stunning geometric abstract kilim from Iran, a gorgeous weaving from Tihuanaco, Peru, and a colorful tufted rug from Morocco, that is a current obsession in the design and interiors world.
There is a range of politically inspired work as well. Swedish-Norwegian artist, Hannah Ryggen, a self-taught weaver whose almost naïve figures and forms held messages about deep and threatening social issues of her day from Communism to WWII.
Pioneers of off-loom weaving, including free-form sculptural work and installation that took root in the 1960s appears in the Sculptural and Primitive sections of the show with work by Magdalena Abackanowicz, Jugada Buic, Sheila Hicks, Josep Grau-Garriga, and Elsi Giauque, represented with her fantastic installation, Spatial Element, 1979.
At times the installation feels chaotic and overwhelming but at the core it's an incredible opportunity to view work by so many talented, often overlooked and in some cases forgotten artists, and fully appreciate the diverse potential of this medium.
Mounir Fatmi, Maximum Sensation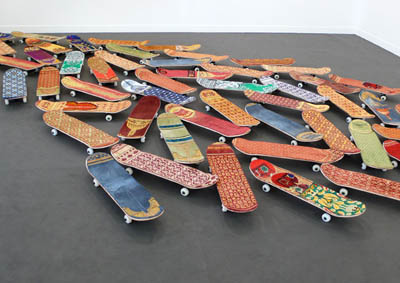 Maximum Sensation, Mounir Fatmi
Maximum Sensation, an installation by Mounir Fatmi, is like a Middle East meets West cultural mash-up. Laid out on the floor is a group of fifty skateboards. A fragment of a Muslim prayer rug covers the top of each board. The carpets are colorful, graphic, patterned; some are abstract, some have images of the Kaaba or a mosque. Together they give a beautiful, diverse, almost ornate impression.
Fatmi has used prayer rugs in his work before, in a series of collages called Father's Carpet's, but it's the first time they are applied onto an everyday object, in this case a symbol of teenage lifestyle and independence. But the association between skateboards and prayer rug are not so divergent as might first appear. Whether a devout believer in God or a passionate skateboarder, the two share a desire to achieve a heightened state of being, to reach a moment of transformation that makes you feel closer to something magical, to a maximum sensation.
There is often what can be called a cult like following among hardcore skaters. The sport has its own style and its own brands, with clothing and accessories industries that have developed around it. There is an attitude that fits with the skater, which is one of freedom and anti-establishment, and often a strong devotion to the professionals (gods), and to the competitions. It's lifestyle, it's religion, and it can be a sanctuary, a form of escape from a disappointing reality.
But more specifically, Maximum Sensation speaks directly to the cross-pollination that is globalization. Our ever increasing connectivity, whether digitally, culturally, or physically has nurtured a reality in which a Southern California skater can easily know about Egyptian revolutionary graffiti and a Moroccan student wears a Stussy t-shirt to morning prayers. Of course it goes way beyond that for Fatmi, who, throughout his work has what may be called a minor obsession with the connections within and between our societal frameworks, whether political, religious, philosophical, cultural or scientific. Fatmi seeks to shed a bit of light onto these often-unexpected relationships that make this world much smaller then it seems. In the case of Maximum Sensation, it's a reminder that cultural codes have shifted. Identity cannot be defined by only one construct. Stereotypes need to be checked and assumptions reconsidered.
Eileen Quinlan, Exhibition Review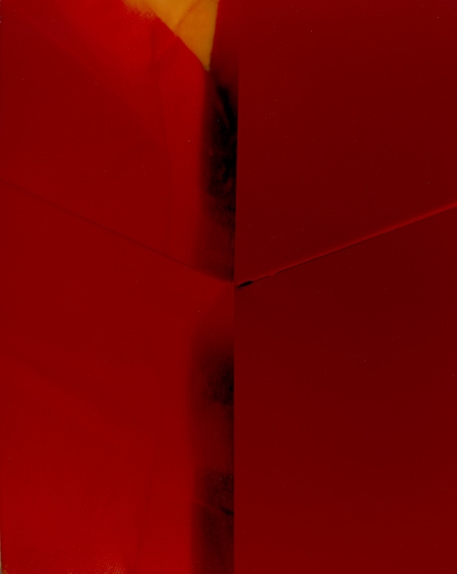 Eileen Quinlan, Exhibition Review
Published in Whitehot Magazine Winter 2009
Eileen Quinlan : « Fahrenheit and Stone Rose »
Sutton Lane Gallery, Paris
New York based artist Eileen Quinlan presents a selection of new photographs at Sutton Lane Gallery in Paris. This is her first solo exhibition in Paris. Each of the nine images on view but one, form part of Quinlan's 'Smoke and Mirrors' series, a unique, systematic process that incorporates very simple objects- but produces anything but simple results.
Quinlan started developing the "Smoke and Mirrors" series in 2004. Whereas many photographers use their medium to reveal truths, emotions, or realities of life, Quinlan glories in bringing back the old tricks of the studio trade, breathing a new contemporary context into a once secret world. On a table or floor of her darkened studio, she arranges various scenarios that involve mirrors, draped fabrics, perhaps Mylar, or another type of reflective surface, and lighting. She then infuses this setup with smoke and begins photographing the scene as the smoke swirls around in its reflected haze. Although she controls each element of the still life arrangement through specifically chosen backdrops, colors, and lighting, the smoke is a loose variable and therefore the actual photo shoot must contend with, and indeed thrives on, the unexpected. As such, a real sense of freedom emerges out of this regulated methodology. Whether in black and white or in color, the images delve into the deepest realms of abstraction, exploring form, depth, color, texture.
Upon entering the Sutton Lane exhibition, a suite of six red-hued images titled "Fahrenheit," all from 2008, grab the viewer's immediate attention. I happened to have just seen the Mark Rothko show at Tate Modern earlier in the week, so I couldn't help but make a quick comparison, and frankly, I found these images as engaging as some by the late-great Ab-Ex artist. I realize that is comparing apples and oranges, but it was for me, an instinctual comparison. The images in the "Fahrenheit" series are seductive. The rich, saturated reds and purples are pierced by small openings and crevasses. They are, dare I say it…beautiful. I don't think beauty is necessarily what Quinlan is after but it is there, undeniably, in this body of work.
The term smoke and mirrors might signify deceptive measures in the English vernacular, indeed in the early days of photography it was a direct reference to concealing the reality, but here Quinlan gives us nothing but the real truth, despite the often mystifying results. She does not retouch the images post production but rather embraces the possibilities within the basic mechanics of photography: angles, lighting, screens; images may be enlarged or reduced to create distortion, or a negative purposely scratched before developing, but there is no digital manipulations. These techniques are at the heart of the work of Quinlan. The resulting photographs are engaging but her real interest seems to be all about the process.
Quinlan has recently begun experimenting with a larger format image and two photographs in the exhibition, "Night Flight #33," and "Santa Fe #19," represent this new development. These two images have a more ethereal quality then the "Fahrenheit" series. Dark gray and black forms seem looser, softer, more shadowy, but they are then cut against a sharp edge or ray of light. The layered photographs are hard to place at first glance. Visual perception is impaired and one could almost be forgiven for initially thinking some of these images were actually paintings or drawings or photographs of paintings or drawings. It is difficult to place Quinlan's work. Is she working in a conceptual mode or is it more sensory? She seems to move fluidly between these two worlds and this is again, part of the allure of her images. We are drawn in by the visual complexity of the image and the surface, only to realize the set of rules imposed upon their making.
"Stone Rose #10," is the one representational image in the show. It is a black and white image of a funeral-like bouquet that rests on a marble top. It seems to be in total juxtaposition to the other images. You are kind of startled out of reverie from looking at fields of abstraction and into a cold, distant image that seems to have no immediate reference to what you have just been looking at. It is a sober image, a type of nature-morte scenario that in fact Quinlan says she takes inspiration from for her own work.
As mentioned earlier, Quinlan has been working on this series since 2004, but rather then grow tired, the work keeps changing, with surprising results. There seems to be endless possibilities within this process, and perhaps this is the real smoke and mirrors behind her work.
Eileen Quinlan lives and works in New York. She graduated with an MFA in 2005 from Columbia University. She is currently having an exhibition at Daniel Buchholtz Gallery in Cologne through December 20, 2008.