Mounir Fatmi, Maximum Sensation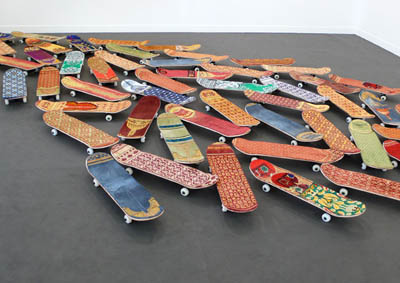 Maximum Sensation, Mounir Fatmi
Maximum Sensation, an installation by Mounir Fatmi, is like a Middle East meets West cultural mash-up. Laid out on the floor is a group of fifty skateboards. A fragment of a Muslim prayer rug covers the top of each board. The carpets are colorful, graphic, patterned; some are abstract, some have images of the Kaaba or a mosque. Together they give a beautiful, diverse, almost ornate impression.
Fatmi has used prayer rugs in his work before, in a series of collages called Father's Carpet's, but it's the first time they are applied onto an everyday object, in this case a symbol of teenage lifestyle and independence. But the association between skateboards and prayer rug are not so divergent as might first appear. Whether a devout believer in God or a passionate skateboarder, the two share a desire to achieve a heightened state of being, to reach a moment of transformation that makes you feel closer to something magical, to a maximum sensation.
There is often what can be called a cult like following among hardcore skaters. The sport has its own style and its own brands, with clothing and accessories industries that have developed around it. There is an attitude that fits with the skater, which is one of freedom and anti-establishment, and often a strong devotion to the professionals (gods), and to the competitions. It's lifestyle, it's religion, and it can be a sanctuary, a form of escape from a disappointing reality.
But more specifically, Maximum Sensation speaks directly to the cross-pollination that is globalization. Our ever increasing connectivity, whether digitally, culturally, or physically has nurtured a reality in which a Southern California skater can easily know about Egyptian revolutionary graffiti and a Moroccan student wears a Stussy t-shirt to morning prayers. Of course it goes way beyond that for Fatmi, who, throughout his work has what may be called a minor obsession with the connections within and between our societal frameworks, whether political, religious, philosophical, cultural or scientific. Fatmi seeks to shed a bit of light onto these often-unexpected relationships that make this world much smaller then it seems. In the case of Maximum Sensation, it's a reminder that cultural codes have shifted. Identity cannot be defined by only one construct. Stereotypes need to be checked and assumptions reconsidered.